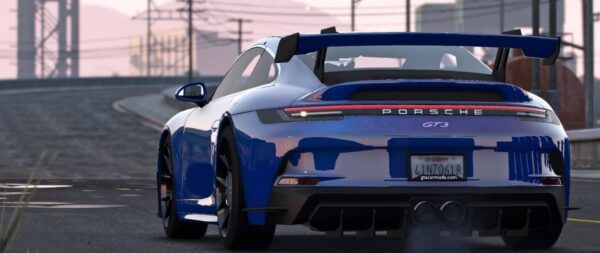 Porsche 911 GT3 ( 992 )
$5.00
Description
Showcase : 
If you are not a Porsche fan, this car might seem like another 911 to you. But you probably are a Porsche enthusiast because you clicked on the title as soon as you saw it, to be the first one who tests the 2022 Porsche 911 GT3 in GTA 5.
GT3 is the line of high-performance models for the Porsche 911 series. It began with the 901 model from 1973. The 911 Carrera RS. But the actual GT3 name wasn't introduced until 1999.
Now, when you consider the base 992 model, it was already a perfect car. But Porsche has found a way to make that car even better.
Compared to the base model which had a 3.0 Liter flat-six with 380 horsepower, The new GT3 model has a 4.0 Liter naturally aspirated engine capable of producing 503 horsepower at 8,000 rpm. This makes the 992 GT3 reach 0 – 100 in 3.4 seconds with a top speed of 320 km/h.
In terms of exterior design, The Porsche 911 GT3 features a big rear spoiler that immediately distinguishes it from base and turbo models.
Those wings enable this car to have 50% more downforce compared to the previous GT3. If that is not enough there is another mode that puts the wing into performance mode and gives the car 150% more downforce.
The Porsche 911 GT3 also has large air vents in the front bumper and the hood with a bigger diffuser in the back.
It is important to note that the 911 GT3 is the lightest version among 992 variants. Although the base 992 was heavier than the 991 model, Porsche has managed to reduce this car's weight by using a Carbon fiber bonnet, lightweight glass, and lightweight seat. So the manual version of the Porsche 911 GT3 weights 1418 kg.
We tried our best to release this mod with the highest quality while maintaining an efficient file size to prevent this mod from slowing your game and draining too many resources. So this mod is well optimized to be used in FiveM servers as well. Here are some key features:
---
Only logged in customers who have purchased this product may leave a review.