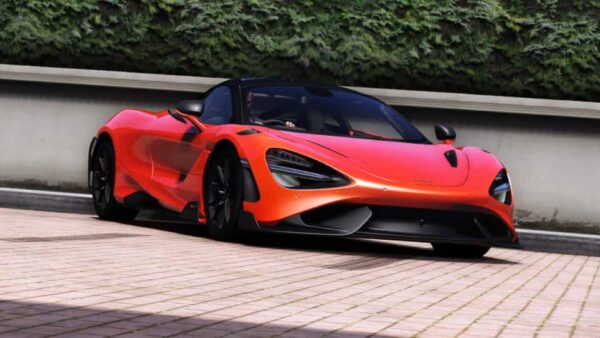 Description
McLaren 765LT is the track-focused version of McLaren 720s and has been in production since 2020. McLaren 765LT is counted as the Super Series of McLaren productions. This series has been the host of other iconic cars such as Mercedes-Benz SLR McLaren and McLaren F1.
Compared to 720s, McLaren 765LT's front splitter is placed 5mm closer to the ground to increase the vehicle's downforce. Its weight has been reduced by 80 Kg with the use of carbon fiber. Since this car was built for track use, it can be delivered without an air conditioning and audio system.
The McLaren 765LT has a 4.0 engine that can produce 765hp and reach the top speed of 330 km / h. This car can reach 100 km /h in only 2.8 seconds which is 0.1s faster than the 720s.
McLaren 765LT GTA 5 Mod Features
High-Quality exterior.
High-Quality Interior
Functioning lights. Including headlights, taillights, etc.
Functioning Spoiler.
Hands-on steering wheel.
Dirt map.
Working dials.
Real mirrors.
All the glasses are breakable.
Accurate Collision model.
All doors except the trunk are openable.
Dihedral doors.
Update Log
V1.1
– Fixed first-person camera position
– Fixed badge textures
– Better animation for the rear spoiler
---
Only logged in customers who have purchased this product may leave a review.